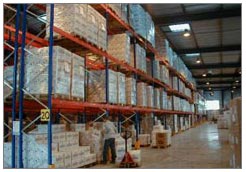 We Indofine cargo packer and movers also help you with warehouse for safety and reliable storage needs. We have taken all safety needs for your good security. The warehouses are fitted with camera to capture all movements going on in warehouse. All the incoming materials to the warehouse are stored properly once our specialist finessed with the inspection of the goods.

We also provide you a separate warehouse with refrigeration facilities for storage of perishable goods. We offer to our customers warehousing facilities for short period as well as for longer time as per your requirement. We assured you for secure storage of the products in a clean and protected environment. All the goods kept within are palletized box and are systematically coding for easy identification.

Goods of any nature, like fragile, heavy metals or edible ones are preserved to ultimately relocate to any part of India with an ease. House Hold Goods, Furniture, Industrial Goods etc are kept with an ease to safety relocate in India.