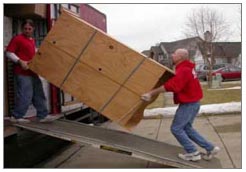 The goods are perfectly placed in vehicles while packing and moving to stay them away from any damage. Our loading comprises safe heaping of packed cargo into the vehicle with the help of slides. This is done to defend the items against any damage. Handling the consignment for relocation in India is not simple task, but we have made all such tasks look easy with our experience...Delivering all the relocation services India in a most reliable way is our aim, and we take every possible step to do it.

The task of loading is performed by us with care. The devices like truck trailers, lift tables, freight, loading spouts, lifters etc come in full use to carry out the task of loading with professionalism. Unloading services are also a great challenge for us, and we finish them in a nice way. For better than best possible results, we even use the best possible tools and technologies for loading and unloading. We use all necessary tools and machinery while unloading your items as well as packing and moving in India.

Safety of your material is most important concern for us, thus we use whatever is best so that you will get best possible results while offering relocation services in India. For safety and damage control, we make sure that the heavy items get unloaded first, and rest follows later on. We assure for reliable and efficient unloading services while packing and moving.