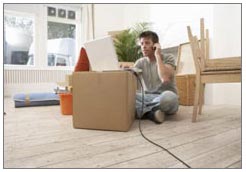 For us Unpacking is as tedious task as is packing. However the tedious task becomes easy with the aid of our other tip up service provider. Our unpacking services help you to get back a normal life of yours as fast as possible. Professional unpacking services include not only the unpacking of boxes but also the complete removal of packing materials.
Following is the unloading process.
Our expert and trained un-packers unpack your valuable household goods. Their job not ends here. They also arrange them to your new place in a proper way or as directed by you. So, for any kinds of packing and unpacking services we can assist you in best manner. So for any kind of packing and unpacking services you need, please contact us.